As yogis, our job is to put the body into a poetic state where it can move beyond imagined limitations. Figurative language can deliver us there.
Metaphors take us where we're not and show us the interconnectedness of life by talking about one thing in terms of another. By making these unexpected associations in yoga, we can reach part of ourselves we didn't know existed.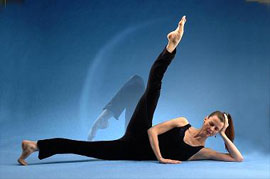 While poetry and yoga are different vehicles, they take us to the same place. We're heading behind the form, behind the scenery, behind the language we've manufactured and manipulated, behind the body we've disciplined and decorated, to a wordless realm we have forgotten to remember, a depth of grace where poetry is yoga and yoga is all. We're heading home.
Click on the following link to read excerpts from Wyatt's latest book, The Breathing Field: Meditations on Yoga.