People of all ages, sizes, and fitness levels do Yoganetics. Male or female, in-shape or out, Yoganetics honors you as you are and addresses the needs you bring with you.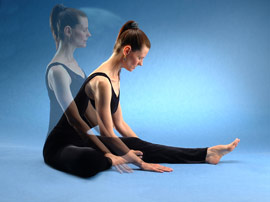 Beginners are welcome. If you have never studied yoga, Yoganetics offers an ideal introduction to an
ancient art. Our approach is gentle, yet deep. Because Yoganetics is done on the floor, it's easy on the joints and a smart choice for older people or those with knee, back, or chronic pain syndromes such as arthritis or fibromyalgia.
On the elite end of the fitness scale, seasoned athletes, dancers, and yogis find that Yoganetics adds dimension to their training. If your background is in another discipline, this method will hone and deepen your technique as you shift from sight-based work to sensation-based work, from form to content. It's like taking an able swimmer deep-sea diving for the first time.