THE BREATHING FIELD: Meditations on Yoga

Poems by Wyatt Townley ~ Images by Eric Dinyer ~ Little, Brown & Company
To open The Breathing Field is to enter a suddenly quiet space. Yoga is being practiced in these pages, a fusion of poetry and art. This is not a book about poses, but about extending the yogic experience into verbal and visual realms to create a place of sanctuary in the reader.
The Breathing Field is an ideal companion for yoga enthusiasts as well as the spiritually adventurous.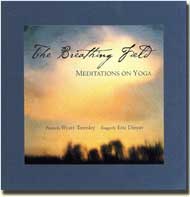 Price: $17.95
80 pages • 40 color images • Hardcover
Silk cloth case with tipped-on image
Published by Bulfinch Press/Little, Brown & Company
Text © 2002 Wyatt Townley • Images © 2002 Eric Dinyer